YOUR LIFE IS NOT YOUR OWN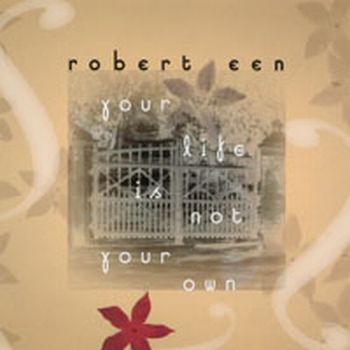 The Meherazad Quartet
Your Life is Not Your Own - inspired by and dedicated to Eruch
Sea of Fire - inspired by and dedicated to Bhau
The Awakener - inspired by and dedicated to Bal Natu
Il Mio Pomodoro - inspired by and dedicated to the women Mandali, collectively
* VOICE * CELLO * VOICE * CELLO * VOICE * CELLO * VOICE *
"Rarely is new music this much fun." Kyle Gann, Village Voice
Eve Castlefalls and Buzzbox Recording proudly announce the release of Robert Een's new solo album "Your Life is Not Your Own". Featuring 12 new compositions for voice and cello by Robert Een - singing and playing simultaneously - this is music of beauty, heart and humor. Inspired by everything from real and imagined landscapes to devotional music and Italian aria, Robert Een has written and recorded songs with such titles as "Cars on Mars", "Il Mio Pomodoro" and "Sea of Fire". Dating from a trip to Tibet and northwestern China in 1985, Een has been a noted practitioner of overtone singing and this recording includes two stellar examples: "The Awakener" and "Driving Up Country".
"Robert Een's colorful, intuitive compositions are a mesmerizing intertwining of voice and cello." Kristin Faurest, Louisville Courier-Journal
Robert Een is an acclaimed composer, singer and cellist. He has performed his solo concerts throughout North America, Europe, and Asia. In addition he has written extensively for film, dance and theater. His scores for film include "Mr. Jealousy", "Trouble on the Corner", "Guts and "The Rook". The recipient of a 1998 New York Dance and Performance "Bessie" award for his score for Yoshiko Chuma's "Unfinished Symphony", Een has had his music performed on concert stages around the world. His music for dance can be heard in the repertories of David Dorfman, Yoshiko Chuma, Irene Hultman, Sally Gross, Ron K. Brown, Sara Peterson/Patrik Widrig, Steve Koester and Terry Creach, among others. Een has received support from Meet the Composer, NEA, NYSCA, The Ford Foundation, Pew Charitable Trusts, The McDowell Colony, NYFA, The Mary Flagler Cary Foundation and The Minnesota Arts Board. He has been a guest lecturer and an artist-in-residence at colleges, universities and professional schools around the world.
Robert Een is also a long-time collaborator with Meredith Monk.
WHAT THE CRITICS ARE SAYING:
"Suavely post-minimalist. Rarely is new music this much fun."
Kyle Gann, Village Voice
"What Hendrix did for the guitar, freeing it from its previous role and expectations, Robert Een does for the cello."
Richard Kadrey, San Francisco Chronicle
"Atmospheric explorations of sonic space...beautiful."
Dean Suzuki, Ear Magazine
"The driving bass ground of Robert Een's cello, with Carter on accordion and Hearn Gadbois on percussion, is rich, supporting and beautifully performed."
Burt Supree, Village Voice
"This is mood music with guts... suited as a soundtrack for a David Lynch film."
David Shirley, Option Magazine
"Robert Een's score, played by a chamber ensemble, abounded with melodic fragments which were repeated with a rythmic insistence that helped to enhance the production's vitality."
Jack Anderson, New York Times
"Joyous. Big Joe's roller coaster of postminimal-jazz energy could engage any audience."
Kyle Gann, Village Voice
"Lively, raucous and sweet. The music by Robert Een is a marvel and full of variety. [He] gives voice to unearthly, wordless song."
Deborah Jowitt, Village Voice
"Robert Een's colorful, intuitive compositions are a mesmerizing intertwining of voice and cello."
Kristin Faurest, Louisville Courier-Journal
For more information please contact:
Karin Levitas 310-358-6268 (LA)
Zipporah Portugal 212-260-3322 (NY)
email: bigjoenyc@aol.com

[Home] [Music Page]