#142

1 to 9 October 2011
Jai Meher Baba to you all!
This Diary will be shorter than the others because I am leaving on the 9th from Meherabad to visit my family in the States. I will return on the 2nd December. However, if something unusual happens in Meherabad while I'm away I will start a 'While away part of the Meherabad Diary' so those of you who are not in touch with our activities here—I will do my best to keep you informed.
Saturday 1 October 2011. I drove my car near the Jhopdi and parked. I do this on Saturdays as I bring supplies to do a 'quick clean' of the Jhopdi after coming back down the hill. The Historic Tour of Meherabad is at 10:00 AM and we always want the Jhopdi to look extra clean in case leaves or dirt have blown in the window since its big cleaning on Fridays.
I walked up the hill and said my prayers before cleaning Mani's shrine. By the time I was finished it was time to get in line for the opening of the Samadhi doors. I took darshan and then went to clean Baba's Room. When everything was finished I put flowers and went back down to the hill.
The Tour of Historic Meherabad had been cancelled because there was a special event in the MPC Hall at 10:30 AM. Knowing this I walked right back to my room. Well, I no soon get to my room then I noticed I have my car keys instead on only my room key. Hummm! Yes, that is right. I left my car parked next to the Jhopdi. Obviously I was not thinking when I drove it instead of just walking all the way. I did not need to do a 'quick clean' as the Jhopdi was not going to be shown. All that I immediately thought was "Oh Man!" I barely had made it walking home, because I have been so tired from pushing myself this past week.
I had already decided I would not go to Meherazad the next day or go up the hill early for darshan. I knew my body needed more sleep. But, now I had to walk back to the Jhopdi to get my car. I could not get it later as I needed it to take all the camera equipment to the MPC at 10:00 to video the special event. I had no choice; I just took a deep breath, turned around and walked back to get my car.
I would have had coffee to help me get moving, but my stomach was still not fully recovered from the slight food poisoning I got the day before. It was one of those times where you have to tell yourself to 'just suck it up' and move.
I got ready and drove to the MPC. The event was titled "Gathering of Long Time Baba Lovers". There were eight guests sitting on the stage, Amrit Irani, Dolly Dastur, Urmila and Gokaran Shrivastava, Sam and Roshan Kerawalla, Meher Jyoti Kulshreshtha, and Jimmy Khan. Jimmy was the host who had this event arranged. I felt very happy to be able to video the panel of Baba Lovers.
I set up my video camera in the MPC Hall, then got out my regular camera and took a photo of the arrangement of chairs. I planned to take a photo with the group before the talking began—but unfortunately I became so busy with the videoing I totally forgot about my camera until everything was over and I saw my camera in the bottom of my bag. Darn! I thought to myself, 'now all I have is a photo of empty chairs!' I don't know how to take a 'still' from the video and make a regular photo for my computer. So, at least you can see how the event was arranged.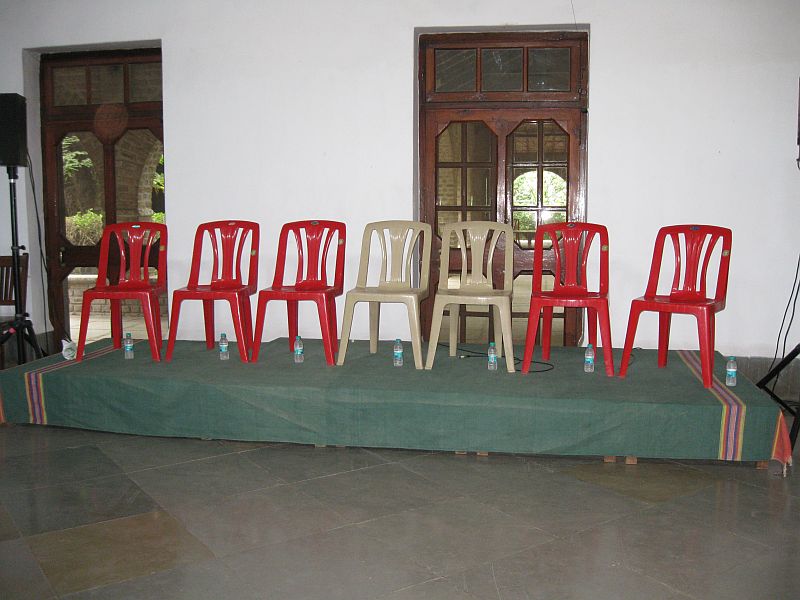 The sharing of stories continued until 1:00 PM. The bus was waiting to take the pilgrims back to the MPR for lunch. We all were so engrossed that we wished we had more time. I hope this is done more often. The video I took will one day be put on the Internet for all to see, I just don't know when that will happen as there is usually more work then volunteers to do it.
In the afternoon, in the Music & Arts Center, an animated history of Zoroaster was shown as well as a new music video that Hooyar put together. The program was called "ZARTOOSHT, The Ancient One". There was a busload of Zoroastrians from Mumbai that just happened to be here with Jimmy Khan. So, it was very sweet that they were able to see it.
I went to bed at 8:00 PM so I could get some good sleep. I didn't set the alarm on my clock, as I also wanted to sleep later.
Sunday 2nd October. Thought I didn't set my alarm last night, I woke anyway at 4:00 AM. I had no intention to get up so I just turned over and went back to sleep. I didn't go to Meherazad today, as I wanted to attend Bhauji's "Internet Chat" in the afternoon, and I just don't have that kind of energy to attend both.
At 3:00 PM I drove to the Trust. I saw Joanne right away and we went to the back room to get the New Life books I was taking back to the States for them. I had room for some books because I didn't have much to take to the States. After signing and getting all the information of where to mail the books I took the bag and put it in my car.
I then went into Bhauji's 'Chat' room and soon Bhauji came in. First a garland was put on a Baba photo behind Bhauji's chair. Next, some people who are present go stand by Bhauji and the prayers from all the major religions are said.
Bhauji than takes each person's hand and gives it three pats; for Brahma, Vishnu and Mahesh. When my turn came, before Bhau did the three pats he looked at me, than back to my hand, than at me again. I looked at the others to try to know what Bhau wanted. They said I didn't have on three rings for Brahma, Vishnu, and Mahesh. It seems Bhauji has also started having his visitors wear three rings on the right hand, starting from the little finger, the ring finger, and the middle finger. I told Bhauji next time I saw him I would have the three rings. He then patted my hand and I sat down.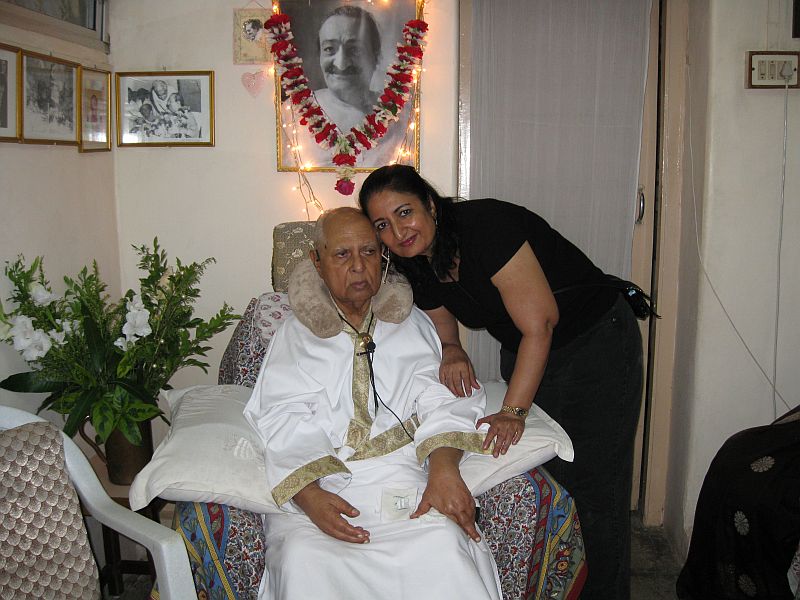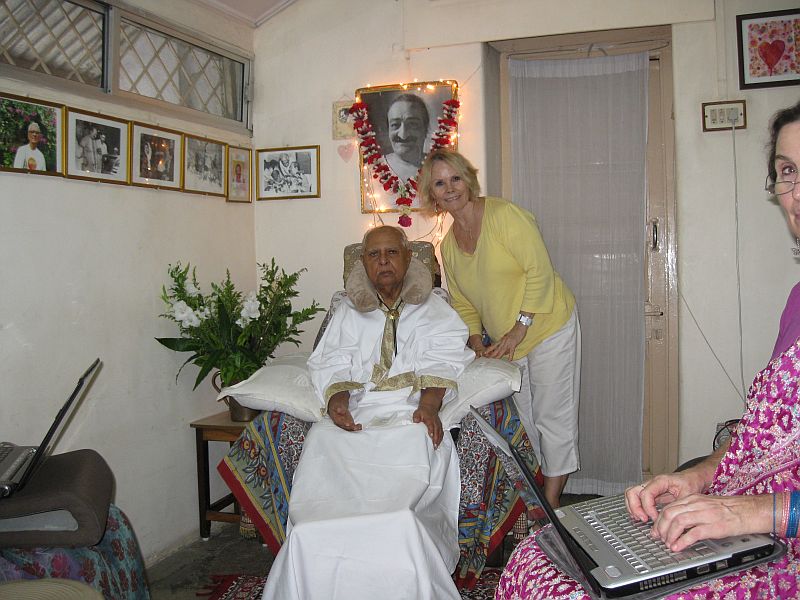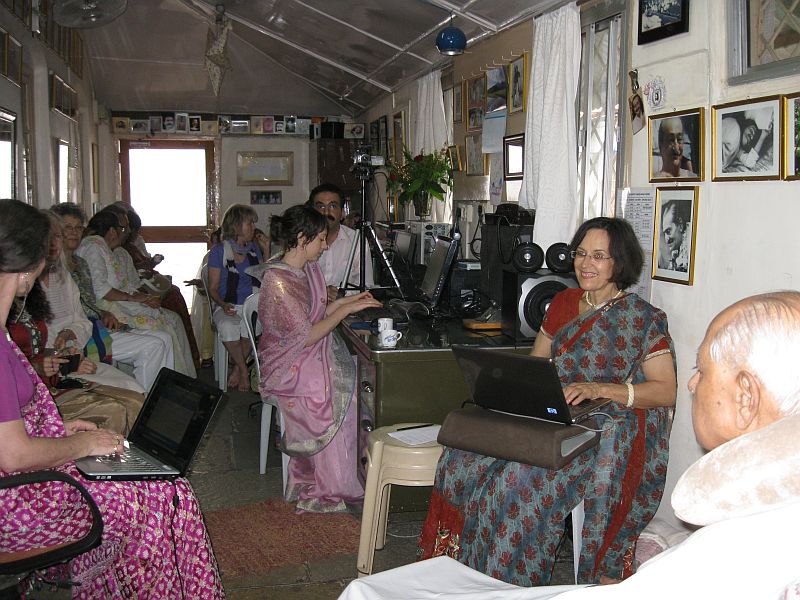 It was fun being with Bhauji and being part of the 'Chat'. I had to leave by 6:00 PM as I had been invited to a dinner at the MPR for someone's birthday and also for someone who had just arrived. I almost never eat at the MPR because the food doesn't agree with me; too much oil in the cooking.
Monday 3 September. I went up the hill early to say my prayers, but as I walked to the window on Mehera's side, I saw a little brown puppy lying against the Samadhi. We don't allow dogs to be in the immediate area of the Samadhi; there is a green netting fence with several gates. But two areas are kept open except for the middle of the night. The puppy of course could crawl between the slats of the gates.
I asked one the watchmen why the puppy was there? He said he took it down the hill three times but it kept coming back up. I told him he would have to try to take it further as dogs are not allowed around the immediate area of the Samadhi. He called our Security men and they came and took the little puppy in their jeep to drop it off somewhere.
I felt sorry for the little puppy. Here he was, next to the most sacred place on earth, the place where God's body is interred. The puppy was so fortunate, I felt like an ogre. But, the puppy would have been sent away anyway as soon as others arrived, I just wished it wasn't me.
After saying my prayers I walked up and down the hill until it was time to get in line for the doors of the Samadhi to open. After taking darshan I walked to the MPR and back down the path. There was a rabbit that bounded across the just in front of me. And, there was a frog still on the path that had been near the same area for the past two days. It was one of those fun times when unexpected things happen.
I had to go to the BSNL (phone company) to fill out a form to 'reconnect' the DSL phone line to the Page house. When I had the DSL line put 'under safe custody' since it was not being used, someone in the phone company didn't put the information in the computer and I have had to go through a lot of trouble to find out why I no longer got bills on that line.
I was told in order to complete the form that had to be filled out, I had to also give a copy of my passport, copy of my current phone bill, and a photo. This meant I had to drive home and get all this stuff. When I got back to BSNL I had to wait in two different lines to complete each part of the transaction. Everyone closes for lunch at 1:30 PM and I was getting concerned as the clock got closer and closer to that time. But, I finished just as everyone was closing up for lunch.
BSNL is only a few minutes from the Trust, so I drove there to park my car. I took a rickshaw to a LG dealer in the bazaar to buy a washing machine for the Page house. The washing machine had to be ordered and would take about ten days.
Before going home I drove straight to the Page house to see the work on the driveway. It is looking good. It will be a very attractive driveway. Here are a few photos of it being built.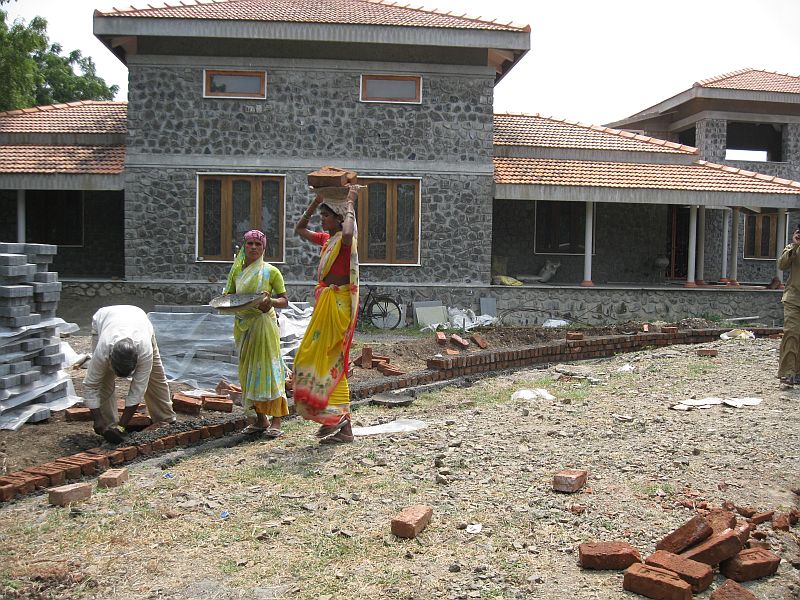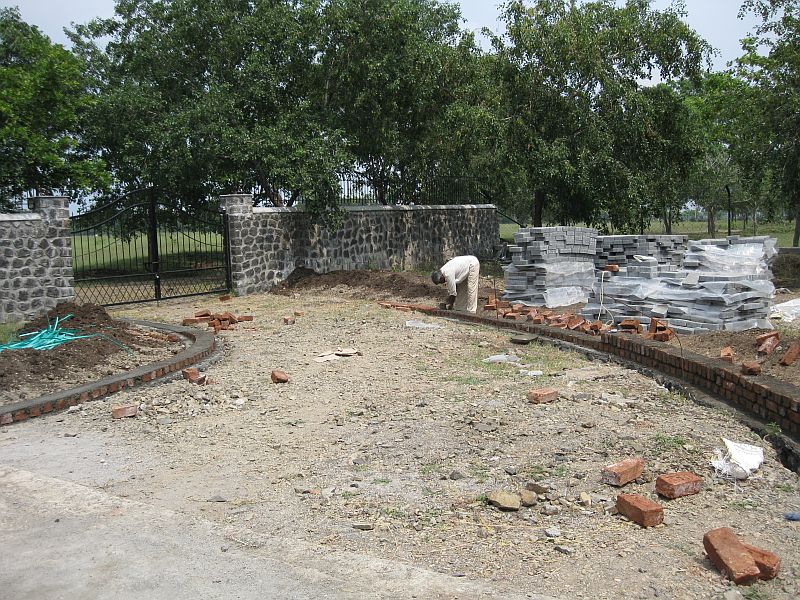 Tuesday 4 October. I went up the hill early and said my prayers before cleaning Mani's shrine. I then waited in line until the Samadhi doors were opened. I took darshan before going to clean Baba's Room. After putting flowers I went for a walk to the MPR and home.
Once again I drove to BSNL to make sure the papers were put into the computer. Sure enough I had to go to a couple of windows to get the work completed. I found here you have to double check to make sure something is done.
In the evening I had Samadhi duty from 5:00 PM to 7:00 PM. After Arti I walked to the other side of the tracks where I parked my car and drove home.
Wednesday 5 September. I went up the hill early to say my prayers and then did my walking up and down the hill. When it was near time for the Samadhi doors to open I got in line to wait. After taking darshan I walked to the MPR and home.
Again I had to go back to BSNL. This time I had to fill out the form to put the DSL phone line back in 'safe custody' so I would only be charged the cost of line rental and not the monthly cost of having a phone. No one is living at the house yet and so a working phone is not needed.
I then drove to the Trust and parked my car. I got a rickshaw to take me to the DSP to have the police stamp my residency papers that allow me to leave the country and to return. We then went to the LG dealer where I had ordered the washing machine. I had not heard from the man and I wanted to see if there was a problem. Yes, he had lost my phone number. I decided to just pay in full for the washing machine instead of waiting until it was delivered. I got my receipt and he said it would be about ten days before delivery. I gave him Joshi's and Kishore's phone numbers so one of them would be there when it was delivered.
We then went to Meher Tailor and I picked up my ring Anil had made smaller for me. This ring will be one of my '3 rings on my right hand' that Bhauji is looking for with his three taps of our right hand. When I got home I took a short nap and then went to the Page house. I checked some of the work done and to my dismay, there in the Master Bath were two knobs 7' up on the wall above the end of where the bathtub will go. Yes, 7' high! What in God's name are knobs doing that high I wondered? I stood on the tub and still could not reach those knobs! Oh brother, another problem to deal with!
Then, when I wanted to measure the space where the 'steam shower' would go I find out the shower was never delivered. Shocked, I asked why not? I bought that expensive shower over two years ago. I called Anand Traders and we set an appointment for the next morning.
Now, let me remind you all that I am flying out of the country on the 9th, and I am leaving Meherabad on the 8th to spend the night in Pune. I still have not packed! But, I had no choice; I had to take care of this immediately.
Thursday 6 September. I went up the hill early and said my prayers at the Samadhi window before walking up and down the hill twice. I then went back to the Samadhi to clean Mehera's shrine, and then got in line for the Samadhi doors to be opened. After taking darshan, I went and picked flowers from those taken out of the Samadhi, and then went for a walk to the MPR and home.
When I was making breakfast, Kishore and my part-time gardener, Sachin, let me know they were going to do Puja. Today was Dessara, the day in India all machines are cleaned and honored for the service they give us. The cars, trucks, tractors, motorcycles, bicycles, etc have garlands put on them. They wanted to put the colored powder, marigolds, and sweets on the tools, and my car and motor scooter.
—photo of cabinet of tools.
Also, all tools that help in ones life are also cleaned and Puja is done. That means marigold flowers are put, colored powder is sprinkled, a coconut is broken and a garland on Baba's photo takes place at each work station.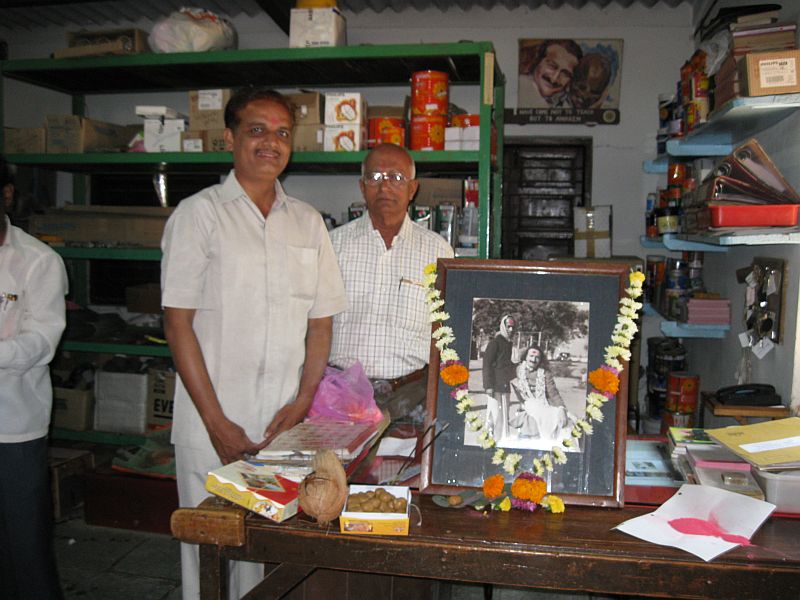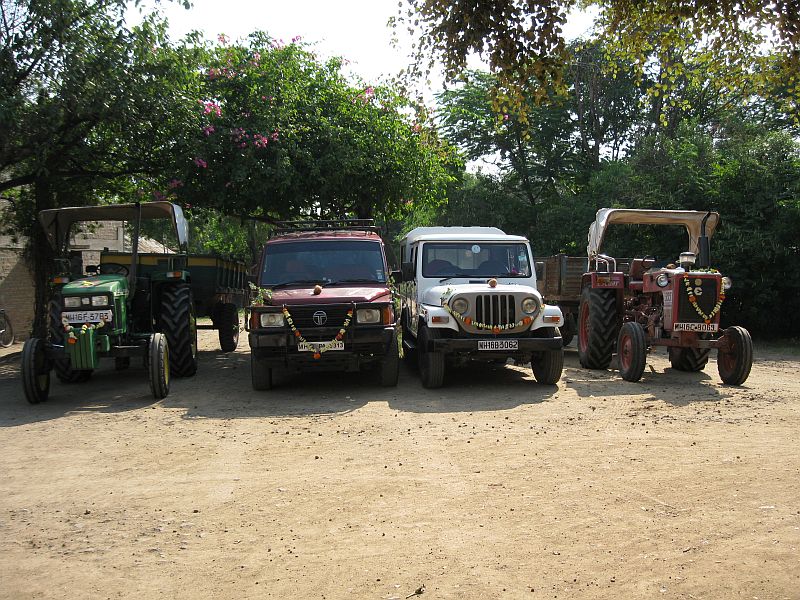 The Memorial Tower also had a Puja. Because it is a Historical site I took videos as well as still photos. I did a video of Joshi and Ted both giving me an update on the Tower work.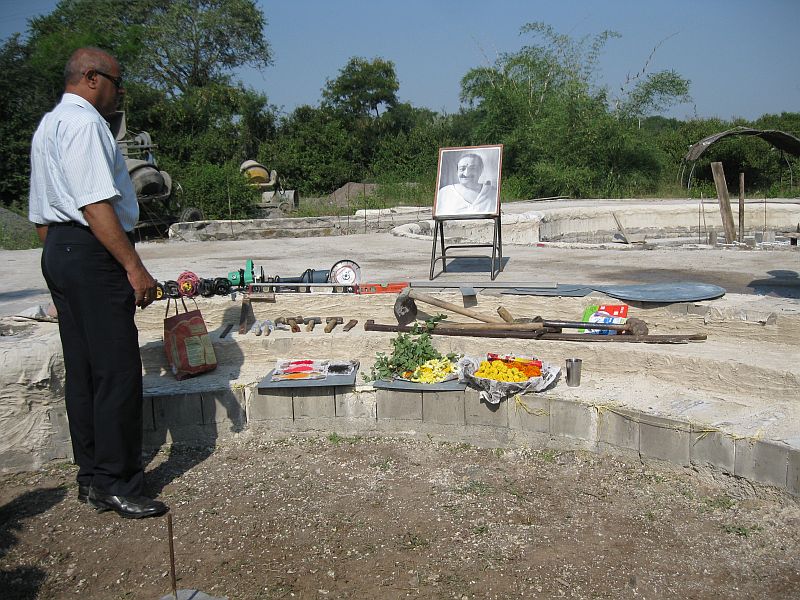 When I got back to my room my housemate's dog, Cookie, started barking and barking. I went out back to look and I saw a six-foot long snake. Cookie is an amazing snake-dog. We have killed several snakes because of her. I didn't get my snake-pole and kill this snake because it was too big. A couple of hours later again Cookie starts barking. My neighbor came by to tell me she saw the big snake. I looked out and saw it too. But before she went to get someone to help us the snake disappeared in the bushes.
I spent the rest of the day preparing for my State visit. I leave in a couple of days.
Friday 7 October. I went up the early to say my prayers outside the window of the Samadhi. Then I did a power walk up and down the hill four times. I went back to the Samadhi when it was time to get in line. After the doors were opened, I took darshan and went to pick out some flowers from those just taken out of the Samadhi. With these in hand I went to walk to the MPR and home.
I had an appointment at Anand Traders, the supply store in Ahmednagar that I bought the 'steam shower' from for the Master Bath of the Page house. I bought it in April 2009. Only a couple of days ago did I discover it was never delivered! I was at the Page house with the contractor's supervisor to measure where the shower would be fitted. It turns out the only shower we have is the smaller shower for a guest office-bedroom. When I found out 'no steam-shower' I called the contractor. He said we would have to contact Anand Traders.
When I got home I called Anand and set an appointment for this morning. Meanwhile I had to look for the receipts and bank statements from 2½ years ago! I found what I needed and met Joshi's supervisor at Anand's at 10:15 AM. After much talking, yes, they had it and why did I not pick it up? That ended up being the misunderstanding right there. When I had purchased the 'steam-shower' it had to come from Pune. But, I was flying to the States in a few days for a visit. I left the receipt with Joshi and left. When I returned in June it was time to open the MPR for the new Pilgrim Season, in August Heather and Erico were attacked, then a few days later I leave for America to help my sister who just found out she had terminal cancer. I was out of the country most of the next one and a half years with my sister.
Everyone forgot about the 'steam shower'. Anand thought we would pick it up, we thought they would deliver it—but life went on and it was forgotten—until now. We walked around their different areas of their buildings and found the three parts of the shower. We all decided we would wait until I returned from the States on 2nd December before taking the 'steam shower' to the Page house and having it installed. I was just so happy to know the steam-shower wasn't lost.
Later in the morning I met Joshi and his contractor and plumber at the Page house. We discussed in detail what would be done while I was in the States.
Saturday 8 October. I was up the hill early to say my prayers. Then I cleaned Mani's shrine and put flowers on it and outside the Samadhi three windows. By then it was time to get in line for the Samadhi doors to open. I took Darshan and then Archana and I walked down the hill to the Jhopdi. Archana will do the 'quick clean' on Saturday mornings while I'm in the States. I let her do everything and I just watched, as next week she is on her own.
I went home and got ready for the Tour of Historic Meherabad. There were a few pilgrims waiting. I included Padri's Room for the first time. It was fun telling them about it. We finished the Tour at the Memorial Tower. They were all very fascinated by the story and building of the Tower.
In the afternoon, an animated film was shown on Meher Baba. Hooyar and his mother put the film together. The first part was so touching, showing many different photos of Baba holding animals or being with animals. I enjoyed it very much.
I am leaving for Pune tomorrow morning. I will spend the night before going to Mumbai International Airport and flying to the States. I will return, God willing, on the 2nd December. See you all then.
In Beloved Baba's sweet love, Judy