#166A

16-18 July 2013
Tuesday 16 July 2013. I went up the hill early to clean Mani's shrine before taking darshan when the Samadhi doors opened. There was a light drizzle, but so light that I didn't take an umbrella.
When I got to Mani's shrine, it was wet from the drizzle. I had to wipe off the water before cleaning it. However, when it came time to polish (Tuesdays are my day to polish,) I found it difficult. Areas that I polished looked streaked when I rubbed the polish. I put the polish on twice, yet it just didn't look good. Nothing I could do about it. On Thursday it is polished again by Cuckoo, so hopefully it will look better.
After taking darshan when the Samadhi doors opened, I went to clean Baba's Cabin Room. I found behind one of the photos a 'mud-pack'. These are made by some kind of insect, but not a termite. I will have to write it in one of the books at the supply store where our workers get their daily assignment.
I went back to my room and got ready for Meherazad. It started raining shortly after I got home. I was sure glad I got home first or I would have been soaked.
My neighbor, Marge, and I left early to Meherazad because we wanted to stop at our favorite tea stall. Unfortunately, it was closed when we got there. We figured they didn't open because of the rain.
At Meherazad I took darshan in Mandali Hall and the Blue Bus before going to the main house. With the damp weather it was decided to not open the windows in Mehera & Baba's rooms; only move the curtains aside to allow in light.
It was Sam Kerawalla's birthday, he is cousin to Eruch. Mehera & Dolly, his daughters, came to the main house with a garland they wanted to put on Baba's bed in His room for Sam. I was able to join them in garlanding Baba's photo. Then, Dolly gave each of us three candies. The candies were chocolate with nuts. She said a friend had handmade them, and this friend also sells them. They were very delicious!
There were very few pilgrims, I think less than twenty. What a difference from the thousands a week ago. We mostly sat on the verandah of the house and chatted with each other.
Scott, one of our residents, came on the verandah to visit. He said Jagtop, a nursery in Pune, had reopened at another location, and they were three times as big. I was so happy to hear it because they not only had beautiful plants of every type, they also had garden tools from the West. I am going to Pune tomorrow to get some things for the Page house. I will go by Jagtop and see about buying some tools.
On the way home, Marge & I stopped at Yashanjoli for lunch. We really like their food and enjoyed our lunch. From there we went home. The whole time it continued to rain. So, it was nice to get home and take a nap.
Later, I drove to the Page house to feed the two kittens. Raju, the electrician, was replacing the three-way switch for the solar batteries and the regular state electricity.
Wednesday 17 July. I went up the hill early to clean Mehera's shrine. It was raining, so I drove as close to the railroad tracks as I could, and I walked the rest of the way up the hill. By the time I finished cleaning Mehera's shrine it was time to open the Samadhi doors. I took darshan, and Cuckoo and I walked down the hill to my car. We had to be careful walking as the path was so muddy that it would be easy to slip.
I dropped Cuckoo (Jayshree is her name, but she goes by the nickname) at Hostel-D, as she lives in the staff quarters next to it. She and I are going to Pune, but I had to drop my car off at my place because we had hired a car to take us. The hired car was waiting when I got home.
We went straight to Yazdan Café for toast-butter and tea. I was so amazed, because Yazdan Café was remodeled and it looks like a nice restaurant instead of a funky tea house.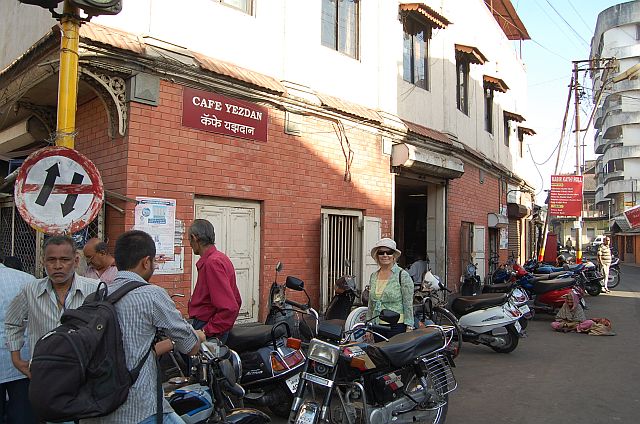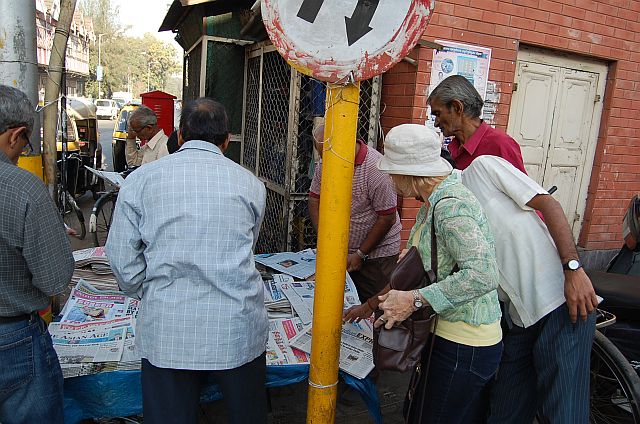 After doing what I came to Pune for, I went to Jagtop Nursery's new location. It is off the main road back to Ahmednagar. I was so happy to see all those beautiful plants and flowers, as well as gardening tools. I bought some tools for the Page house.
We then returned to a rainy Meherabad. It had rained all day and we hope it keeps raining. The two years of drought will require a lot of rain to replenish the wells.
Thursday 18 July. I was very tired, so I slept until 6:00 AM, also I didn't want to bother walking up the hill in all that mud in the dark. After some coffee I did a forty-five minute DVD workout before getting ready to go to Meherazad.
Most of the morning there was a light drizzle. If it was not raining, the gray sky felt like it could rain any time. The weather is nice and cool. On the way to Meherazad I dropped Jayshree (Cuckoo) off at the Trust. She had asked Mehernath if he would help her arrange an appointment to see Bhauji. She helps run Hostel-C, Hostel-D, the Dharmshala, and other accommodations for pilgrims. She is not free to go and 'take a chance' to see Bhauji. So, Mehernath said she could come in the morning.
There were hardly any pilgrims at Meherazad. So, we mostly sat on the verandah of the main house and talked. Shelley was explaining how the changes were taking place in the rooms of Meherazad. She said after Merwan goes to Baba they will return that room to the way it was when Bhauji used it as his room. She said the room Manu, Eruch's sister, had stayed in was a go-down (storage room), the room Falu was in and the room Merwan now use were men Mandali rooms and would be restored they way it was when they were here. In the future, no one will be allow to live in any of these rooms when the current residents go to Baba. All will become a museum for the future.
I stopped at State Bank of India on my way home and signed up for an on-line banking. It will be so nice to only deal with the bank directly for things like getting checks, etc. I have a separate bank account for the Page house and I will do the same there. I have already gone on-line to do all phone bill payments.
I will have to end this Diary here, as I did not write anything for some time and I forgot what happened each day. There is always something going on in Meherabad, and it is easy to loose track of what has happened.
In Beloved Baba's sweet love, Judy