#150

20-30 Jun 2012
Jai Meher Baba to you all!
Wednesday 20 June 2012. I rested at the Lotus Hotel in Pune where I had taken a shuttle from the International Airport in Mumbai. Anne arrived a couple of hours later, returning from France. We shopped at Dorabji's for food and then had lunch before heading home to Meherabad. We went to take darshan at the Samadhi first thing.
What a sight for sore eyes is the Samadhi! The heart just feels it can now rest; it is home. After darshan I went to my staff quarters. I always unpack right away, but it was late and I only took out things like my computer. It also felt so good to sleep in my own bed.
Thursday 21 June. I woke early and went up the hill to take darshan at the Samadhi when the doors opened. I was so happy to be back with my mornings up the hill with Baba. I just love starting my day off with darshan in the Samadhi.
I then went for a walk out to the MPR. On the way back I saw this movement, so I stopped. There, not to far ahead of me was a deer crossing the path. I noticed another deer near by. It must have sensed me because it began going faster, but not running.
Later in the morning, Kishore, who is the property manager of the Page house, came by to tell me the ceiling in the Master Bathroom of the Page house fell down. It didn't break anything or hurt anyone, thank God! It seems when we still had Sharad as the contractor back in 2008, his workers didn't remove the old plaster from that part of the ceiling, but only plaster more on top. Well, it was just to heavy, almost one inch thick, and it broke off and fell. I asked Kishore and Joshi (current contractor) to please double check that this is the only place that had the problem.
I know I had personally seen Sharad's workers removing all the old ceiling plaster in the house. But I didn't check every room. The plaster had to be removed in the first place because Sharad didn't put roof tiles on the house for many years and it damaged the ceiling. When I took over supervising the house construction, the roof tiles were the first things I made him do.
I heard there was going to be a prayer procession from the Dhuni to the Samadhi. The villagers remembered when Baba helped save them from a sever draught in 1925. So, once again they were going to pray to Baba to please bring rain. Though the Dhuni would not be lit, a ceremony would take place there and the procession of several hundred villagers and school children would go to the Samadhi and request Baba to help it rain. I quickly grabbed my video camera and Paul Liboiron and others took photos.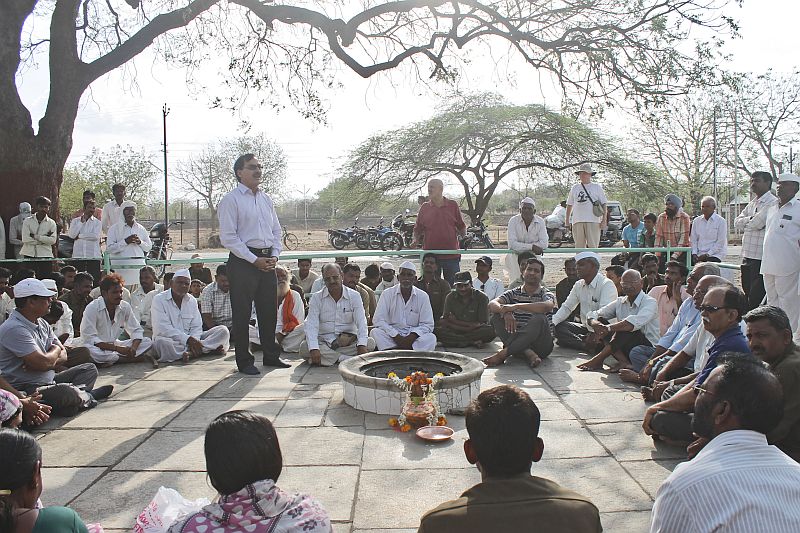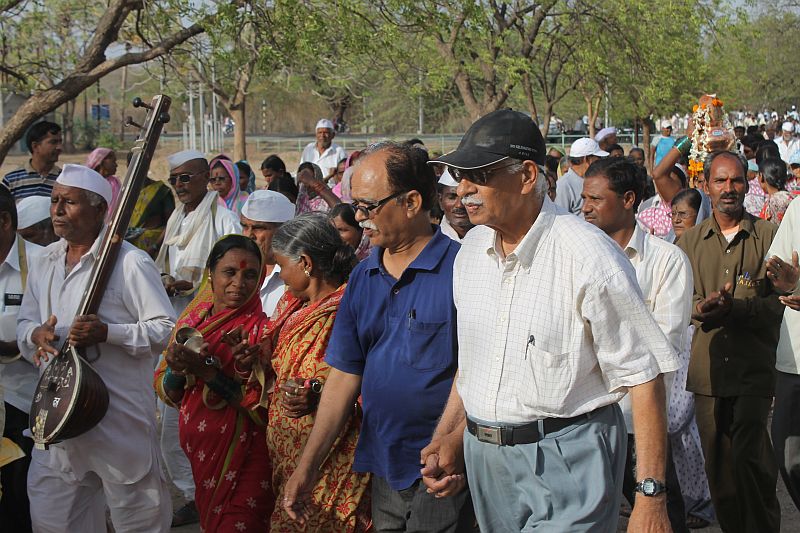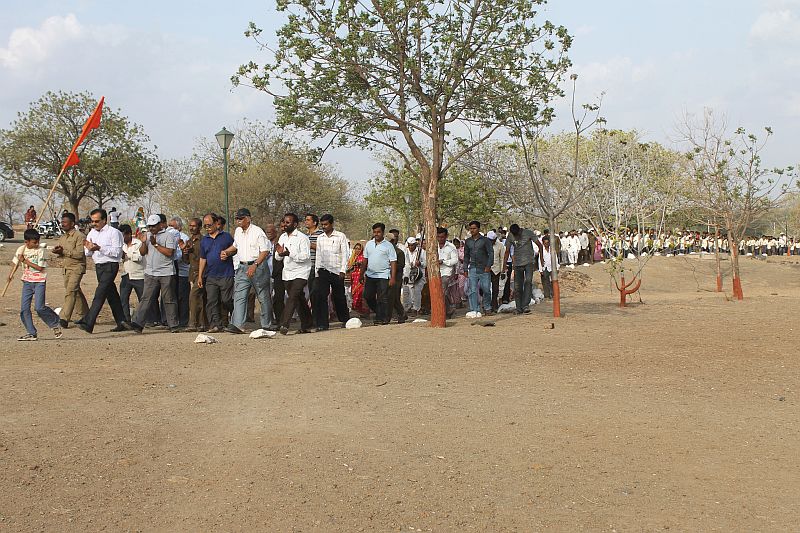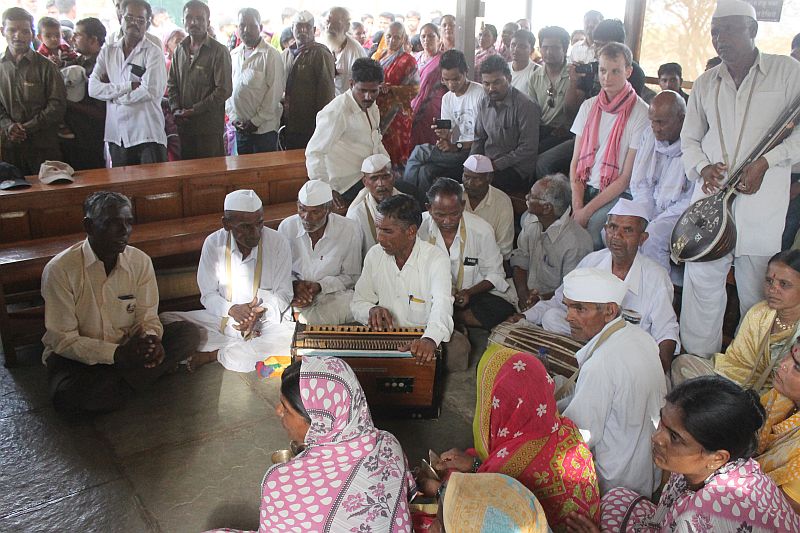 I met Kishore at the Page house at 6:00 PM and he showed me the ceiling plaster all over the bathroom. I can only thank God no one was under it at the time it fell. It could easily have killed someone! Kishore also showed me the roof rain gutters he had installed during the summer, while I was in the States. Only one side of the house is finished though.
Friday 22 June. I went up the hill early to take darshan and then go for a walk to the MPR and back home. When I was making breakfast, I looked out the window and I saw some movement outside. I noticed a gray jackrabbit going under some tin sheeting we have next to a tree. It came out and then went back under. I wonder if it made a home in there?
I had a meeting at the Page house with the contractor, Joshi, at 11:30 am. He showed me the outside bathroom that is close to being finished. It will be nice for the workers to have a place to use.
I then drove to the DSP (Department of Superintendent of Police) to check in. We have a window of time; I think 10 days from the time we return, to check in. I like doing it as soon as possible.
I was back up to the Page house at 6:00 PM for a meeting with Kishore and Raju (the electrician doing the work at the house). Raju is having trouble finding where a certain wire (point) in the ceiling of the guest room is located. He can't find it and so he can't install the ceiling fan. He is going to keep trying.
It turned out a month later that there wasn't any 'point' and Raju will have to break part of the ceiling and install a wire. We will then plaster that part of the ceiling and repaint.
Saturday 23 June. I was up the hill early to clean Mani's shrine. When the Samadhi doors opened I took darshan before going to Baba's Room to clean. I then went down the hill and cleaned the Jhopdi and Table House. Since there are no pilgrims I didn't have any Tour of Historical Meherabad to give.
It is strange not having any pilgrims. It feels like summer time. I must say I am enjoying having Meherabad more or less to myself. I love the quiet.
Sunday 24 June. I went up the hill early to take darshan with the Samadhi doors were opened. I then went for a walk before going back to my room and doing a DVD workout.
I unpacked and rested before going to the Trust in Ahmednagar for Bhauji's 'Chat' on the Internet. I had Asha help me put on my sari. Bhauji came in a little after 4:00 PM. He always looks so sweet. Some of the residents make really pretty dress robes for him to wear. So he looks very handsome. It is so cute watching him interact with the Baba Lovers who call in on the Chat.
---photos of Bhau at the Chat
I had to leave at the break time, around 6:30 PM. I was just having so much trouble trying to stay awake. The jetlag seems to hit me harder when I return from the States than when I go to the States. I wake at 1:00 am or 2:00 am or 3:00 am and I can't go back to sleep. I am wide-awake. Later in the day I have trouble staying awake. It takes about one or two weeks to finally be back in this time zone.
Monday 25 June. Kept waking up almost every hour all night long. After taking darshan at the Samadhi and walking, I went home and took a half sleeping pill at 10:30 am. I slept until 4:00 PM, took the other half of the sleeping pill and slept until the next morning.
Tuesday 26 June. I woke up at 3:00 am. I waited until it was closer to 5:00 am and then I walked up hill to clean Mani's shrine before taking darshan in the Samadhi when the doors opened. I then went to clean Baba's Room. After I finished I took a nice walk and then went back to my room to do a DVD workout.
There is no rain. We have a lot of dark clouds but they just pass overhead as the wind blows them away. Everything is dusty and dry. Yet, the weather is very pleasant. It is cooler, more like autumn in the States.
I had Samadhi duty from 5:00 to 7:00 PM. I love being at the Samadhi when there is a slight breeze. It feels romantic.
Wednesday 27 June. I went up the hill early to take darshan at the Samadhi before going for a power walk. I then went back to my room and did a DVD workout. Later I went back to the Page house to check on the work.
We are all on water restrictions. We are allowed one hour of water a day. That means in that one hour we need to take our bath, do the dishes, fill our drinking water containers, do any laundry, and fill some buckets with water. We use reclaimed water to flush the toilets. When we wash our hands, we have a container under to catch all the water.
I had installed a two thousand liter water tank next to my room. This tank is filled by a water truck, which comes around and fills it when we call him. We are not allowed to water our gardens with Trust water. I am happy to have this water available so all the trees and plants don't die.
Thursday 28 June. I went up the hill early to clean Mehera's shrine. After taking darshan in the Samadhi when the doors opened, I went for a power walk.
Later I drove to the Trust and parked my car. I took a rickshaw to Swapnil to get my IPhone unlocked. Mr. Swapnil has been in business for over thirty years and knows all about cell phones. He can fix most anything. He also knows how to unlock them. My daughter had given me her old IPhone when she bought a new one. But, it is from the States and was locked with AT&T. After Mr. Swapnil unlocked my IPhone, all I had to do was put my BSNL mobile cell SIM card in and all was well under the sun! I have to tell you; I love my IPhone! It is so easy to use.
When I got back to the Trust I stopped to see Bhauji, but he just gone to bed and the staff said only in the afternoon would I be able to see him. It seems the hours changed a little and I just missed visiting time. I would just have to see Bhauji another time, because I knew I would not come back later once I reached Meherabad.
It started raining heavy monsoon rain. It rained for four days!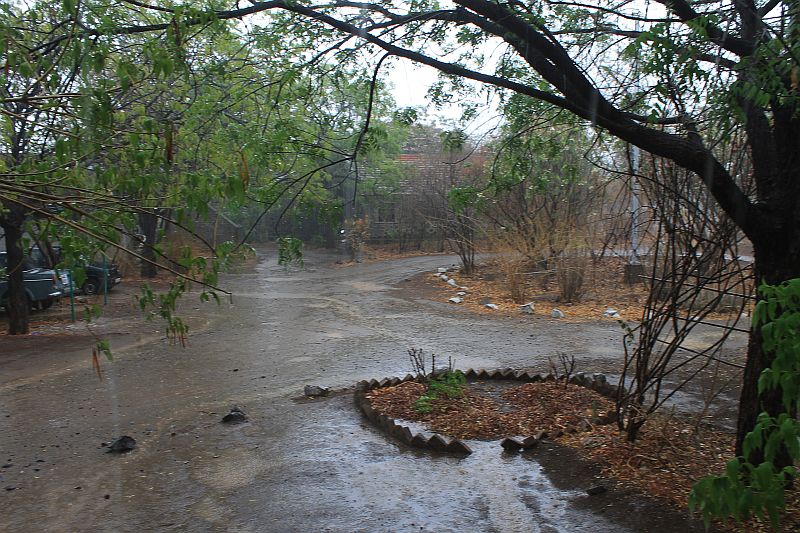 Friday 29 June. I went up the hill early to take darshan at the Samadhi before going on a power walk. For lunch I went out to a restaurant with a couple of residents. Sometimes everyone is so busy we don't get the chance to visit. So, I really enjoyed visiting with my friends. The rest of the day was busy doing things at the Page house.
Saturday 30 June. I went up the hill early to clean Mani shrine before taking darshan in the Samadhi when the doors opened. I then cleaned Baba's Room. I next went back down the hill and cleaned the Jhopdi and Table House. Since there still are no pilgrims here I had the day free.
In the evening, Robyn & Jim Oppenheim celebrated their 20th wedding anniversary at the Yash Grand Hotel. It was going to be on the terrace next to the pool. However, it rained earlier and there were dark clouds threatening more rain. So, the party was changed to one of their large banquet halls.
There was some kind of Election Day, or something like that, so no alcohol was allowed to be served. Of course we paid privately and someone brought us beer. We had a lot of fun with good food and dancing.
In Beloved Baba's sweet love, Judy