#151

1-15 Jul 2012
Jai Meher Baba to you all!
Sunday 1 July 2012. It rained during the night. So, when I walked up the hill to take darshan the ground was a little muddy. When the Samadhi was opened I took darshan and then collected some flowers from where they take them from inside the Samadhi. I took a walk to the MPR, but found the path too muddy to do more than one round.
Because of the drought, we are on one-hour water rations. We get water from 9:00 to 10:00 AM. I had some laundry to do, as well as the dishes, and take a bath in that time. My washing machine has a separate section to wring the clothes. This way I can drain the water from washing into a bucket and use it on the plants.
I took a rest before going to Meher Nazar (Trust in Ahmednagar). Bhauji has his Sunday 'Chat' on the WebCam. After putting my basket on a chair to save a place, I went into a room to change into my sari. We usually use the room Upasni Maharaj stayed in. Asha, who lives in the Trust compound, came to help me. I am getting better at putting a sari on but still need some help. We women also wear all that Indian jewelry. It is fun.
When Bhauji came in, Baba's photo was garlanded before he sat down. He always looks so sweet. It is hard to believe he is in so much pain. After he greets everyone the prayers from all the major religions are said — or I should say most of them are sung. It is a beautiful experience that I always look forward to doing.
Bhauji really enjoys being on the Chat with the Baba lovers from around the world. He jokes with them and has us laughing. When the people are on Skype talking to Bhau, Bhauji also has Joanne show them to the room so we can all say hello. This way we too are a part of the interaction.
It started raining during the Chat, but not for long. We usually take a half-hour break around 6:30 PM. This gives Bhau a chance to take a break and we can get something to eat. The Chat then continues until around 8:00 or 8:30 PM. When I drive home I follow one of the other Meherabad resident's car. For me it is not safe to drive at night here.
Just as I pull into my carport and went into my room the monsoon rain began to pour! It came down so hard I thanked Baba for letting me get home first. I went to sleep listening to the rain.
Monday 2 July. I slept late, as I had been tired. I later went to BSNL in 'Nagar. That is my Internet and phone server. Mr. Bori was helping me apply for an extra SIM card. I now have my daughter's old IPhone as she bought the new one. I had the IPhone unlocked in the bazaar and my SIM card put in it. I love the IPhone; it is so easy to use! But, I wanted to keep my Blackberry too for my family and friends to use when they come to India. I will have only the simple plan on the Blackberry so it will not cost me very much.
I had Samadhi duty from 5:00 to 7:00 PM. I had decided to do Samadhi duty twice a week, Monday and Tuesday. This was my first Monday. It had started raining very hard around 4:00 PM, so I drove up to the Samadhi early. The wind was blowing and the rain was coming down hard. When I reached the Samadhi everything was wet; the flagstone flooring, the benches, and even inside the Samadhi from wet feet. The dog, Maya, was laying right in front of the Samadhi doorway. The poor man who had duty from 3:00 to 5:00 was doing his best with a small cloth to wipe the benches. He had a friend who was also trying to help. Yet the wind just kept blowing more rain on things.
Nowhere did I see the hired help. I found out they were under the Tin Shed near the Gadi staying out of the rain. I sent for them. There were two women and two watchmen on duty. I told the women to please get floor cloths and help dry. I told the watchmen to take the dog away. Pilgrims should not have to step over the dog to get inside the Samadhi.
Though we got sprayed from the rain we didn't care because we were so happy to have rain! It rained for at least another good hour. After Arti I drove home. Later, it started to rain some more.
Tuesday 3 July. I was up the hill early to clean Mani's shrine before the Samadhi doors opened. When they opened I took darshan and then went to clean Baba's Room. It was too muddy to take a walk, so I went home and did a workout with one of my DVD's. I had to go back into town to finish the application for my extra SIM card. I had to take the Trust sponsor paper, copies of my passport, copies of my past phone bills, and a photo. I paid some rupees for the service and was given a SIM card that would be turned on in one or two days.
I had to also go way to the other side of the bazaar for something. It was so crowded the rickshaw man asked me to please on Tuesdays to only go short bazaar as he was feeling so stressed. He said on Tuesdays all the villagers come into town and they don't know how to drive. I then went home and rested. I had Samadhi duty from 5 to 7:00 PM
Wednesday 4 July. I went up the hill early for darshan when they opened the Samadhi doors. I then went for a walk up and down hill several times before going home for breakfast. In the afternoon I did a DVD workout. I am going to design a new desk that is not so wide. I want to have short, open bookcases on both sides of the desk. I designed the two corner bookcases; they will be only as wide as the desk. I called Kishore and gave him the designs. He will later give me an estimate of the cost. Only after the bookcases are made will I design the desk because I want to get a visual of what it may look like together. My current teakwood desk I will sell to my family, the Pages.
Thursday 5 July. I went up the hill early to clean Mehera's shrine. I took darshan when the Samadhi doors were opened. I next went up and down the hill a few times for exercise. The footpath up the hill now has fresh murram to make it level. Murram is like hard clumps of dirt that is used on our dirt roads.
I went back up the hill by 8:00 AM to do archive cleaning on the inside of the Samadhi. It was my rotation turn for this month. I got the two buckets out and put special floor cleaning liquid soap and carried them to the Samadhi. I next when to get the bag of special cleaning cloths we use on the floor. I looked everywhere but I could not find it.
Just then another one of the resident's who shares in the Archive cleaning of the Samadhi came up the hill. She had the phone number of the person who last cleaned and still had the cloths. The elderly woman who answered didn't know anything. So, Janaki and I drove to the woman's house. She had shortly left and we were told she might have just gone up to the Samadhi. I dropped off Janaki and went back up to the Samadhi. No, she wasn't there. In frustration I went to my car to drive home.
As I reach my car I saw Megan, one of our residents who volunteers in Archive. She was checking the new markers that designated the 16 acres know as 'Seva Mun'. During the New Life, Baba had all the land around Meherabad transferred from His name to other people's names. Only the 16 acres know as Seva Mun did He keep in His name. Baba said this land belonged to the people of the world and it would stay in His name.
Megan said only recently did they have this sixteen acres surveyed and marked. In the past it had been surveyed — but this time they got the best survey company to do it and mark it. There are 10 markers.
Megan was checking to see if one of the markers included the watchtower the women Mandali would keep watch on the hill. The watchtower is right next to the Samadhi parking area. And, yes, the #1 marker is only a short way in front of it. However, Panchvati Cave is not within the Seva Mun.
---show photo of marker & watchtower
I went home and rested before doing a DVD workout in my room. After, I opened my email and saw the Trust sent out an announcement saying Meherazad would began to be open for the pilgrim season starting Sunday 15th, and the MPR would open on 20th July.
We will have Hostels B, C & D opened for Silence Day from 9th to 13th. I have not heard if maybe now it will just stay opened.
Friday 6 July. I went up the hill to take darshan when the Samadhi doors opened. I went for a walk up and down the hill before going home to have breakfast. Then by 8:00 AM I was back up the hill to do the Archive cleaning of the inside of the Samadhi. By this time the cleaning cloths had been put back in the Caretaker Room. So, everything was there and I was able to do the cleaning.
While I was cleaning inside, two residents were polishing the brass points on the Samadhi door. Everyone was getting ready for Silence Day.
When I got home I quickly washed the cleaning cloths before the water was turned off at 10:00 AM. Then I drove to Swapnil Electric shop to pick up something I needed. By the time I got back home I was feeling very tired. I had some lunch and went to sleep. I woke only long enough to do a few things around my room before going back to sleep.
Saturday 7 July. I went up the hill early to clean Mani's shrine. Right after saying my prayers at one of the Samadhi windows I walked to Mani's side to start cleaning. I looked down and saw a frog sitting under the Samadhi window. It looked just like it was taking Baba's darshan. How lucky that frog is to take darshan at His window while in the frog form! When the Samadhi doors opened I took darshan and then went to clean Baba's Room. After I finished I walked down the hill and made breakfast.
Today was the morning that we would do the annual, major cleaning of the Jhopdi and Table House. We do this cleaning every year just before Silence Day. The Jhopdi is where Beloved Baba began His Silence on 10 July 1925. The Table House, near the Jhopdi, is where Baba wrote most of His 'Book'. Once a year the door to the Table House is unscrewed, and one of us goes inside to clean it.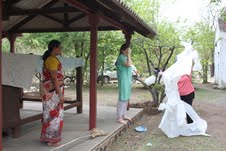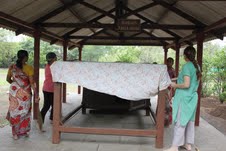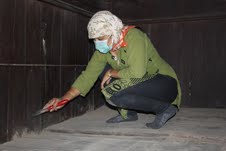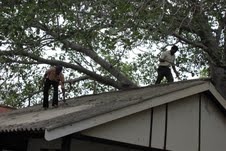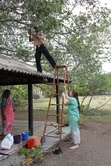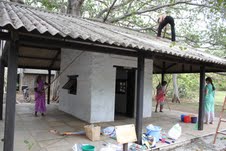 Sunday 8 July. I went up the hill early to take darshan when the Samadhi doors opened. I then went for a 'power walk' before going back to my room. In the afternoon I got ready and drove to the Trust for Bhauji's Chat.
It is fun to get dressed up in a sari and jewelry. I guess our dressing up makes it look like everyone is dressing for a special occasion; it is nice that we dress up for His lovers. I so much enjoy the whole thing!
At the break I had to leave early as the person I usually follow home in my car was not going right back to Meherabad after the Chat. I had to leave when it was still light so I could drive safely. For me, driving at night it is so dangerous. The other drivers keep their high-beam headlights on and it is blinding. You also have the crazy motorcycle drivers coming at you from every direction.
Monday 9 July. I went up the hill early to take darshan when the Samadhi doors opened. It was Mariko's day to clean Mani's shrine. But, because I thought Mariko had already left to return to Japan for her visa, I cleaned Mani's shrine. After I had finished and went to put the cleaning cloths back in the Caretakers Room, I saw Mariko. I felt horrible. She had planned to do her cleaning of Mani's shrine and Baba's Room before leaving. I apologized and was thankful I hadn't started cleaning Baba's Room.
While Mariko was cleaning Baba's Room, Zahra and I got the change of covers for Baba's Room from the Samadhi supervisor. When Mariko finished cleaning she left to complete her packing. Zahra, a pilgrim named Behrose, two watchmen and I went into Baba's Room and removed all the old covers. We then carefully moved aside the glass cover over the stretcher and removed that cover and pillow. After carefully wiping the stretcher, we replace the stretcher cover with a new fresh one. We put a new cover on the pillow and put it back on the stretcher were Beloved Baba's head had rested. We then once again carefully put the glass-framed cover back over the stretcher to protect it.
The cover for the little shelf above the stretcher was replaced, as was the two window curtains. We put the photo back on top of the glass that covers the stretcher and admired had nice Baba's Room looked. It was now ready to receive his hundreds of lovers during these four days that Hostel D, C & B were opened for Silence Day.
I drove Paul and I to Meherazad. We first stopped at a favorite tea stall before going on to Meherazad.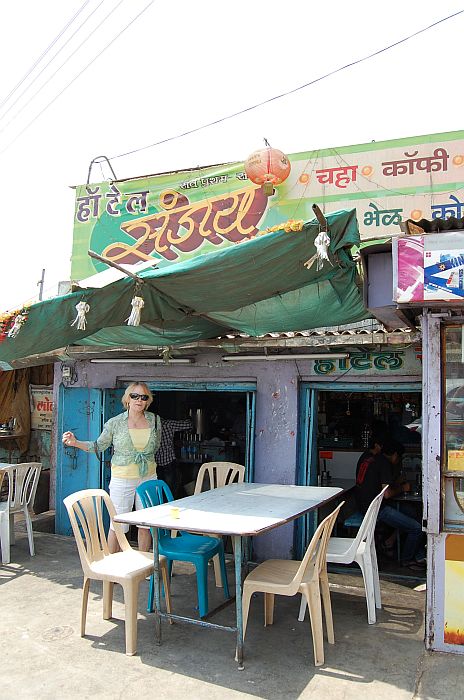 I quickly went to help out. I sat on the verandah with some of the Meherazad residents. Dolly Dastoor usually has an early bus come with the volunteers that will be posted along the path the pilgrims will be taking for darshan. The pilgrims will first go into Mandali and then to Baba's Room. There were nine buses holding 500 pilgrims. On the 11th another group of 500 pilgrims will come for darshan. The pilgrims are only allowed to come one of the two days around Silence Day.
This was the first time there were no women Mandali. It had a very different feeling. We sat on the steps of the verandah as the pilgrims went from Baba's Room to Mehera's chair, which was on the edge of the verandah. Pilgrims would take darshan there before heading back to the bus.
---photos of Meherazad and the pilgrims before Silence Day
In the afternoon, as I was having tea, it began to lightly rain. We are so grateful for anything. I had Samadhi duty from 5:00 to 7:00 PM. With so many pilgrims here, another resident named Kiram, helped me during my two-hour duty. We were both kept very busy.
Tuesday 10 July. Silence Day. I set my alarm for 4:40 AM. I wanted to be up the hill earlier than normal because of the crowd and my cleaning schedule. I drove to the Jhopdi and parked my car. I would stop at the Jhopdi to do a quick sweep when I came down the hill. Sometimes the spiders are very active and I wanted to make sure there were none around when the Jhopdi was opened. This is the one-day a year when Baba's lovers could go inside to take darshan, or just sit inside. The Jhopdi is kept open all day long. At sunset, around 6:30 pm, it is closed.
I had Samadhi duty from 5:00 to 7:00 pm. Thankfully, Kiram once again came to help me during the two hours. Many pilgrims bring Prasad to give out. So, we have a lot of different kind. There were three children who wanted to help. I had them first wash their hands and then they took turns giving out Prasad. It was so sweet to watch how much they enjoyed doing it.
Wednesday 11 July. I went up the hill to take darshan at Beloved Baba's Samadhi window. The line was so long that I was not able to go inside. On my way up the hill I saw two jackrabbits. I have been seeing quite a few lately. I like seeing them.
I met Archana, a resident, at the Jhopdi at 7:00 am. We opened it and together we removed all the garlands and flowers from Silence Day. We put the garlands on trees in case any pilgrim would like to take them home. We then did a quick clean and once again locked the door.
I got ready and drove to Meherazad. Paul and I once again stopped at that tea stall for a cup of the delicious tea.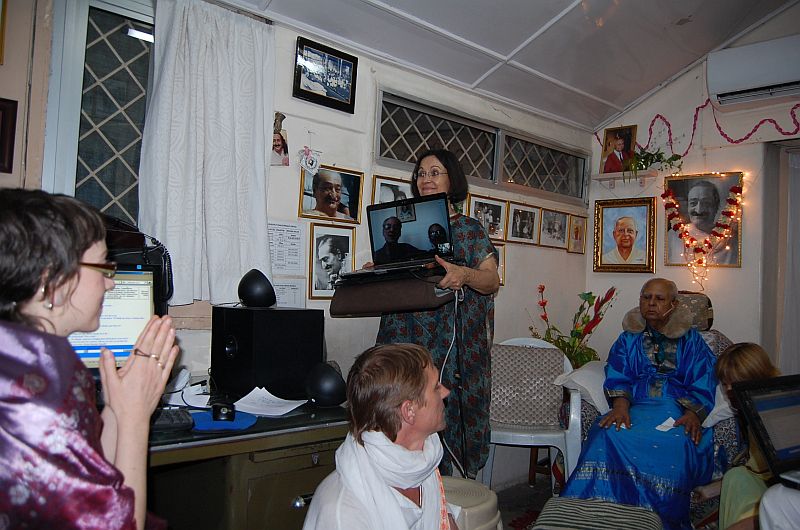 We got to Meherazad just before the buses. This was the day another nine buses with 500 more pilgrims came to take darshan. It all went smoothly.
When I got back to Meherabad I rested before going back up the hill to help Kiram with her Samadhi duty from 5:00 to 7:00 pm. Her days of duty are Wednesday, Thursday, and Friday. Again we were very busy because we still have hundreds of pilgrims here. Many pilgrims left after Silence Day, but there are still a lot here.
Thurs 12 July. I went up the hill early to clean Mehera's shrine. There were so many pilgrims still here that I was not able to take darshan inside the Samadhi. On my way back down the hill I saw another jackrabbit.
It was Dhuni day. I always help out at the Dhuni. With so many pilgrims still here the atmosphere around the Dhuni was lively. Some of the Pune Center Baba lovers were singing. They use to always come. Now, there are not as many left. They have great voices and I like to listen to them.
I called Parog, my car mechanic, to come and pick up my car. Our dirt roads are very bumpy and there are potholes on the paved roads. This has caused my car windows to rattle. Parog is going to fix that problem.
--photos of Dhuni
Friday 13 July. I went up the hill early to take darshan when the Samadhi doors opened. There was already a long line of pilgrims, so I only took darshan at the threshold.
I had a good long walk before going home for breakfast. I left my car key for Parag to pick up at 9:00 AM, and then went back up the hill to do Archive cleaning of the Samadhi floor. I got up the hill by 8:15 am, but there was still singing from Arti. I got the two buckets and other things I would need and then just waited. It wasn't until 20 minutes to 9:00 am that the line was short enough for me to feel okay to start cleaning. I let the pilgrims continue to take darshan inside the Samadhi until I get to the part where I am washing directly in front of the door. Then they had to wait until I finish that area before starting once again to take darshan.
However, the line only got longer. By now pilgrims were coming up after having finished breakfast. Lorraine, was giving Prasad. When she was off duty she helped direct the flow of pilgrims into the Samadhi. So, we had a nice teamwork between us. It went so smoothly!
When I was finished cleaning and started walking down the path, I was taken by the beauty of all the trees along the path. Now all the trees have leaves on them, and the new leaves have such a delicate light green color that blends so beautifully with the other variations of green on the trees. It was so lovely to look at that I wished I had some way to let you see it too. But, I only have the words since I didn't have a camera — and maybe a camera can't sometimes convey the beauty the eye is beholding. It was really something. As I looked down the path, all along it the beautiful greens of the trees gave such a magical look.
My car was gone when I got home. Parog had come to take it. He returned my car a few hours later. No more rattles. He is really such a jewel. A number of we residents use him.
Saturday 14 July. I went up the hill early to clean Mani's shrine and take darshan when the Samadhi doors opened. I next went to Baba's Room and did a cleaning before going on a walk.
We have such dark clouds that fill our sky, and it looks like it could rain. It is hot and if you do anything and then stop you feel the stickiness on your skin. Yet, the wind just blows the clouds away. Everything is green from the five days of good rain in early July — but there has been no rain since. Once in a while a very light shower will wash the trees and even the dirt will get wet. That is it for Meherabad. No rain.
Sunday 15 July. I went up the hill early to take darshan when the Samadhi doors opened. I then went for a walk before getting ready for Meherazad. This was the first open day of the regularly scheduled Pilgrim Season. Meherazad was opened during those two days around Silence Day for pilgrims only to take darshan and leave.
I am now helping out at Meherazad on pilgrim days. Paul, my neighbor, and I went a little early so we could stop at the tea stall his mother, Marge, and we would stop at. It was very sweet, as the woman at the stall asked about Marge. Paul told her she was on vacation.
While I was parking my car at Meherazad I heard the bus arrive. It was the smaller bus and only a few pilgrims were on it. Most of the pilgrims were staying in private accommodations. I quickly walked to the main house and informed those there of the bus arrival. I was asked to help in Baba's Room. With so few pilgrims I was not needed in the room so I went and sat on the verandah.
When we were alone I asked Shelley if she would tell something about the Dining Room so I could learn. She told us where everyone sat and shared a sweet story. She said sparrows would fly into the room and sometimes land on Baba's chair. Mehera would also put breadcrumbs on the window ledge so the birds would come and eat. We then went into the kitchen and she said things were pretty much as they were when Baba's food was cooked in it. Shelley then showed us where chapatis were made.
When we went back onto the verandah Shelley told the story of their dog Rolly. Rolly was Meheru's dog and often slept next to her bed. However, sometimes Meheru would almost trip over Rolly when she had to get up in the middle of the night, so they would bring Rolly in the main house. Rolly is the dog they keep tied up during the day, as she has been known to bite people.
A couple of days before Meheru had her stroke, Rolly began to act strange. He would whimper and wonder around, not wanting to leave Meheru's side. It got so bad they had to tie Rolly up in the main house. On the morning when Meheru fell down Rolly alerted everyone by barking and barking. After Meheru went to Baba and they took her body to Meherabad, Rolly would not let anyone near the main house. Rolly would walk around and around it. After a few days Rolly was more or less back to normal. There is more to the story and Shelley said she wrote it up for one of the Baba articles.
On the way to the Trust I stopped for lunch at the Yash & Jali. I decided on Sundays I would go directly to the Trust from Meherazad because I like to attend Bhauji's Chat. It would be too hard to drive back to Meherabad and then almost immediately turn around and drive back to the Trust. I brought my sari and after resting at the Trust I would get ready there.
It is so much fun attending the Chat. Bhauji is usually in a charming mood and jokes. When those who called in on the Chat asked about the rain problem, Bhauji said he had prayed and prayed so hard, but still no rain. So, Bhau said he has stopped praying for rain and has accepted this is Baba's Will. He said he would no longer pray for rain.
In Beloved Baba's sweet love, Judy