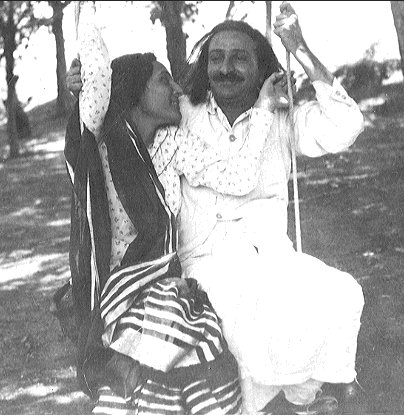 Mehera and Baba at Ananda Valley in the 1930s.
© AMBPPCT
MEHERA
THE BELOVED'S BELOVED
---
Mehera asked me would I be afraid in the forest like that, with wild animals roaring close by.
Mehera was adamant. Her friends would be there. "I must wear the sari. Otherwise, I won't go!" she declared.
Ganga told Mehera and Freiny, "Merwanji, Maharaj's closest disciple, is coming."
Now we go back a little to the time in 1922 when I first saw Baba in Sakori.
They were all discussing it quite hotly until Baba said, "Why are you all arguing? Why don't you ask Mehera what she wants to do?"
He took the ring off His toe and put it on my finger.
Babajan was seated on a seat that Baba had had made for Her after He was God-realised and had come from Sakori.
So our lives were very strict, but we had Beloved Baba to ourselves; and how filled with joy we were!
I trimmed the longer side, and again stood back to look. The side that had been longer was now too short! But that was not all. By now Baba's whole moustache was a little shorter than He usually wore it.
I remember Baba saying once that it is not so difficult to receive His grace, as to recognize it in the form in which it comes disguised.
He so sweetly guided me in such a way that my giddiness went.
It was just a glimpse for a few second, but the sight of Baba dancing and singing in the dawn light is something I shall never forget.
Baba was very playful, and He loved to tease us!
It was because of Gulmai's fall that Baba postponed the commencement of His silence until 10 July 1925.
He had said that when His work was finished He would talk. So we thought, "Oh, yes, seven days will pass, and then Baba will talk!"
"From the first time I saw you I recognised you as My Radha," He said.
Baba told Mehera never to sign her name again, and he instructed Khorshed to keep the needle and to preserve it as something sacred.
This time we felt very happy; Baba had taught us what to do.
"White vase?" said Mani. "There was no white vase. It was a lovely brass one."
Finally consoled, Naja thus received her answer and from then on began doing her work with all her heart.
We planned to take two days to drive by car to Badnera where we would catch a train that would start us on our journey to Kashmir.
After a moment or two standing there with hands folded to Him, Mehera would turn round and walk quickly to the door.
Mehera called us all into the dining room "for prasad from Baba's table."
For seven years the image was very clear and beautiful, but then the bark began to shed and it is no longer clear in the daytime.
Never forget all life's a joke.
"Baba, I'm feeling very frightened," I told Him.
Someone, perhaps it was a reporter in the early days when Baba visited England, asked Baba whether He had ever been in love. "Yes," Baba replied, "I am always in love with humanity."
As Baba walked He began to sing quite loudly at each end of the platform where there were no people, and very softly as He passed us and the others waiting for the train.
One Tommy joke I still remember because Baba enjoyed it so much was this: A teacher asked her students, "Does anyone know where God is?"
As all four sides of the room were half glass and half wall, it had a bird's eye view of Ahmednagar.
Because of all these feelings, my uncle began to publish derogatory articles about Baba in the newspapers and Gujarati magazines.
I can see Sheba (Mehera's lovely mare) going around, picking up her ears for her mistress's voice, for it's nearly her lunch time.
All the Westerners were so happy and excited to see Baba again. "Delia found Me," He told them, "so I'm going to embrace only her."
"Mehera always had a very close affinity for the moon," Meheru related.
Mehera's birthday was celebrated in Mahabaleshwar on Christmas Day, Wednesday, December 25th, 1950.
I had received a confidential letter dictated by Baba with a warning never to mention the contents, particularly to Mehera.
This celebration of Mehera's birthday was held on Sunday, 21st December [1980] to enable more people to come to the occasion at Meherabad.
She suddenly noticed that Baba's face had clearly appeared in the bark on the trunk of the tree directly in front of her.
Mehera's stretcher was placed before Beloved Baba's chair, and there her body rested till morning, surrounded by large blocks of ice which gave an ascetic touch, a feeling of the Himalayas reflecting her supreme purity.
In regard to Mehera, Mani says follow your heart, which will take you only one place: up the high road to your Beloved Baba.
Whenever Mehera was called, no matter what she was doing, she replied sweetly, "Yes, Baba?"
Mehera wept silently for a few moments and then quoted a favorite couplet: "Tears shed for the Beloved are like priceless pearls."
The weather is so cloudy and windy. Mehera's birthday is in four days, and Mehera also is not well.
Baba thought about it for a second, then turned to Mehera and said, "If Mehera says yes and learns to swim, then you all can learn. If she agrees, only then can you learn to swim."
One day we found out that although P. P. and the mali had two children, they had never been married.
In this way Baba showed us how to concentrate; how to think of the right thing. We were so happy to have our own beautiful orders from Baba!
Now at night when I think of Baba and remember every little thing that we did with Him, I realize that this was the first pink coat that Baba had worn.
"And now I won't embrace anyone else!" He said.
Her love for Baba outlives every other consideration, and outshines all neglect and delicacy of health.
"That is love," Baba concluded. "It has to be created. You must love me as Radha loved Krishna."
She did not say a word. She was either looking down or at Baba all the time, unaware of her surroundings.
She did all Baba's things, but never overdoing it in a showy way.
Baba's message came as a shock, and Mehera exclaimed, "What! Leave this nice house? Why are we leaving tomorrow? Go and call Baba inside."
She could touch your heart in such an intimate manner, bringing to mind stories of how Baba, when in a crowd of thousands, could make each person feel that He was giving His full attention only to him or her.
The men were called and stood on the ground. Baba smiled and said, 'Say Jai Baba to them.' I did, and they said, 'Jai Baba.'
When it came to the chorus Baba stopped singing all of a sudden, pointed to me, and asked, "What are you thinking?"
After perhaps half a mile we turned to the left and came across a cool, shady grove of lovely pine trees.
In the Blue Bus we travelled with Baba throughout India from north to south and east to west.
For the cook to stand at attention was a new style of cooking for us, and we all had a good laugh about it.
Her love for Baba welled up so strongly, tangibly filling the Samadhi like a most beautiful perfume.
A few words, and Baba went away! He never had long conversations with me at that time.
She said again, 'It is good you have obeyed Baba's wish and come now.'
It was not until years later at the Great Darshan that I began to realise the significance, the beauty and poignancy of times spent in Mehera's company.
In the late '70s and the early '80s there were many, many occasions when she seemed very bright, very relaxed, talked easily, told delightful stories, and laughed quite a lot.
She went to the picture and stroked Baba's hand.
Soon afterwards when she was telling about her childhood she told me to sit forward so that her voice would reach me.
One morning on the porch she told someone who had put Baba's photo on the floor never to do that.
While she was speaking tears were running down her cheeks, but she went on talking gently and in a calm manner.
She smilingly acknowledged those waiting to greet her and allowed a few photographs to be taken — she always liked to know about this so that she could face the camera and not be caught unawares.
Baba's strong grip pulled her up the steep slope.
When an ambulance arrived with a stretcher, Baba would not let them help Him.